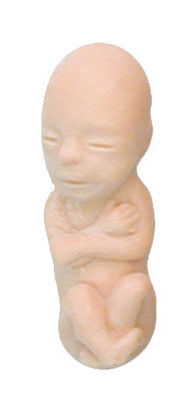 My daughters came home from a street fair near our home with this "cute rubber baby" -- given to them by an anti-abortion group that had set up a table at the fair. The trouble is, my daughters are 12 and 10. These activists apparently pulled them aside -- or maybe just lured them over with rubber babies and pencils -- and talked to them about abortion without their parents present.
My girls came home and asked me what abortion is. The activists had told them something about "ripping up a baby" in the womb. I answered the question -- I believe in giving my kids good information when they're curious, along a healthy dose of spin about our family's beliefs. But I resented this group for introducing my kids to this issue too young and framing it with their bias.
It's not that we don't talk about sexuality and reproduction at home. Their dad and I have explained the facts of life and the dangers of becoming pregnant as a consequence of having sex. We've taken every opportunity to teach them to respect their bodies -- by eating well, by not lifting their shirts for second-grade boys on the school bus.
But what happened to my rights as a parent to teach them about life and morality at my own pace? These anti-abortion folks, as usual, seem to care more for the life of some hypothetical baby than for the innocence of the two young girls standing in front of them.
I've heard that some 10-year-olds can be very mature and even sexually active. But mine simply are not. They carried the rubber babies around for the rest of the weekend, talking about how cute they are, and made them a place to sleep in their dollhouse.
This rubber baby was supplied by heritagehouse76.org, an online warehouse supplying any number of items to the anti-abortion movement. The company was founded by Virginia and Ellis Evers, activists who began using silhouettes of tiny baby feet on lapel buttons in the 1970s to further their cause. The rubber babies must have come later. You can order them in several different models and three "ethnicities." (White baby shown above.) The people at the street fair also gave my daughters a pencil with a silhouette -- which is the size of a 10-week-old baby's feet.
Fortunately, the other side was represented at the fair too. My kids also came home with bright pink lapel pins stating, "My body is not public property." These came from the American Civil Liberties Union. My 10-year-old read the pin out loud to me, and I responded, "That's right. Your body is not public property." Especially not for some anti-abortion fanatic at a street fair trying to indoctrinate little girls before their time.